( Conférence en français )
Le Droit Administratif chinois contemporain :
Evolution et Question d'actualité
UFR de Droit et Science Politique  Université Paris Ouest Nanterre La Défense
Jeudi 31 Janvier 2013  11h – 12h  Bât F Salle des Commissions F.142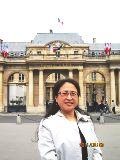 Découvrez en intégralité, les podcasts de la conférence :
Téléchargement des fichiers audio :
Introduction Conférence Le Droit Administratif Chinois Contemporain
Présentation et perspective du Droit Administratif Chinois contemporain
Conclusion de la Conférence: Question et débats avec la salle
( Affiche Conférence de Mme ZHANG LI )
Professeur de Droit Public à l'Université de Science Politique et de droit de Chine (China University of Political Science and Law), research center  for Government by Law, à Pékin.
Auteur en décembre 2009 de l'ouvrage : Le contrôle juridictionnel de la légalité des actes administratif : éléments comparée des contentieux administratifs chinois et français.
Intervenante lors du Colloque « Vers une internationalisation du droit des personnes ? Etat et Vie privée, Etat et Propriété privée » organisée en 2011 par le collège de France et le Conseil d'Etat. Elle a publiée en 2012 de nombreux articles en français sur le droit administratif chinois, comme à titre d'exemple : « La Procédure Administrative en chine » à la Revue internationale de Droit comparé, « A la recherche d'un Etat de Droit socialiste : l'évolution du droit chinois » à la Revue Agir où encore « Les recours administratifs en Chine » publiée dans la revue française Droit Administratif.